WHOLE
FOODS
Words by
Tsaqif Fadali
—
25 January 2021
Reading Time 3 minute read
Who are we without our trustworthy suppliers? We made our way to the uncharted territories of Tuas and had a whole experience with the chaps over at Whole Ingredients, Sheng Yu and Dylon as they gave us a run-through of what it takes to be Singapore's most favoured meat supplier. The R&D process never stops in the house and we've been blessed with the opportunity to work with Whole Ingredients to come up with a special Two Men house sausage.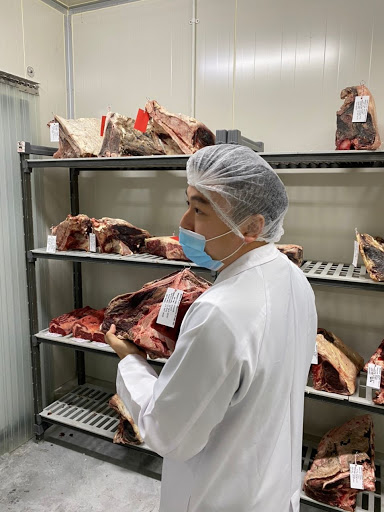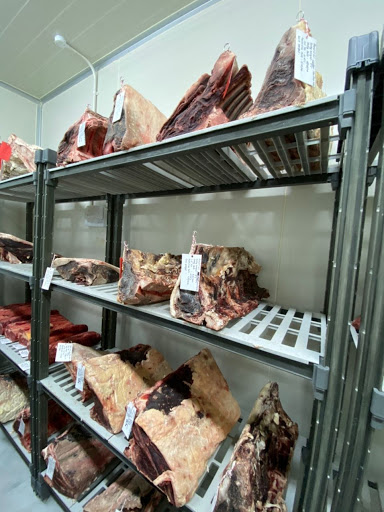 Upon entering the facility, we were met with a rush of cold air (12 degrees celsius to be specific) as we shivered the fuck out, trying to get any type of warmth we could. It felt like a never-ending ice bucket challenge. Down to the very degree celsius, every room in the Whole Ingredient facility is carefully monitored to ensure the preservation of flavours in the meat as well as the quality of it. They even had a room equipped with UV lights specifically for dry-ageing meat.There was no way of comprehending the amount of meat that surrounded us. You had ribeyes on the left, wagyu on the right, flanks in the middle, all methodically packed, and ready to be delivered to Whole Ingredient's illustrious clientele.
To put things into perspective, Whole Ingredients is that guy you tell people when they need a hookup, "Oh you need meat? Yeah, I know a guy."
We were then handed sanitary outfits or as we like to call it the Balenciaga Runway Wardrobe which included a translucent lab coat, a pair of white boots, and a hair net. We went away from the blistering colds of Narnia and straight into an episode of Breaking Bad. The only difference was that we weren't making drugs, we were making sausages. Putting meat in cases, how hard could it be - or so we thought.
Literally every limb goes into making sausage. The only other activity that uses every single limb is Muay Thai but that doesn't even compare to what we did. Your hands cases the meat, your knee (yes that knee) dictates when the machine starts, and your head just everywhere trying to figure out what the fuck is going on. It was a mess till Dylon took over, nonchalantly packing each case perfectly. The sight of a man effortlessly handling meat was truly invigorating and the whole experience was indeed indelible.
"It's about finding the right brands overseas and putting them in the right menu in Singapore"

This personalised service is just one of the many things that Sheng Yu is doing to grow Whole Ingredients. With partnering farms from all across the globe, Sheng Yu travels to all of them; making sure that he finds the right brands overseas and puts them in the right menus in Singapore. Having already been a household name in the B2B (business-to-business) front, Sheng Yu is also working on extending the company's reach by introducing a B2C (business-to-consumer) concept under the name
Meat Co.
which stands for Meat Community. The name is self-explanatory as he hopes to make premium quality meat affordable for everyone across Singapore.
Together with his Father who has laid the foundations of the company, Sheng Yu takes everything in his stride, once even staying up all night to denude eye rounds only for it to be rejected the next day cause it was cut wrongly. "You may lose a bit of money, but the lessons you learn are invaluable."
Suppliers have transcended just being middlemen for livestock and Whole Ingredient's dynamism is an accurate representation of the constantly evolving F&B sector in Singapore. With suppliers like Whole Ingredients honing the quality of food coming in, rest assured that Singapore's F&B industry is in safe hands.